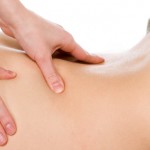 Massage Therapy is the manipulation of the soft tissues of the body including muscles, connective tissue, tendons, and ligaments. If employed early enough after trauma and injury, massage therapy can greatly reduce the development of painful muscular patterning.
WHAT MASSAGE THERAPY CAN HELP YOU WITH:
Inflammatory conditions such as arthritis and tendinitis
Stress relief and associated conditions
Headaches and migraines
Muscle and related conditions such as spasm, strains and sprains
Back pain
Repetitive strain injury
Circulatory and respiratory problems
Pregnancy and labour discomfort
Post-injury and post-surgical rehabilitation
All of our massage therapists are registered with the College of Massage Therapists of Ontario.
Hot Stone Massage Therapy
Hot Stone Massage involves the application of water-heated basalt stones of varying sizes to key points on the body, giving a deep massage and creating sensations of comfort and warmth. These treatment dates back 5,000 years to the Indian and Mayan cultures. These therapists used "tools" provided from the earth to better heal and calm; their hands were only used for manipulation and some healing. These stones seem to connect with the flow of energy to rebalance the physical body, emotional mind and spirit as one. These stones can also be effective when used during Reflexology treatments to de-stress and stimulate tiny nerve endings in the feet.
What are the Benefits of Hot Stone Massage?
Relaxes Muscles
Increases Circulation
Calms Nervous System
Helps Detoxify lymphatic system
Aids with Arthritic pain
Decreases Stress
Decreases Insomnia
Helps with Depression
CANCELLATION POLICY:  ATTENTION ALL MASSAGE THERAPY CLIENTS
We require 24 Hours to cancel any appointments.
If you do not show up or cancel at the last minute, you will be charged for the full amount of the scheduled appointment.
You will not receive a registered receipt for this and will not be reimbursed by your extended health care insurance.
Late arrivals will be treated for the remaining time and charged the full amount. Our schedule does not allow for people to arrive late & still receive the full time.
If you have any questions or concerns; please do not hesitate to ask your therapist.