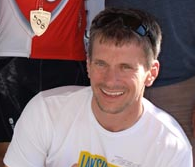 Robert is a life long athlete who grew up playing hockey, volleyball, tennis, swimming and cycling.  He is a registered massage therapist (RMT), graduating from Royal Canadian College, a certified Active Release Technique (A.R.T) practitioner and a graduate of Contemporary Medical Acupuncture from McMaster University.
Robert is an Ironman triathlete, runner and endurance cyclist.  He has completed Ironman Lake Placid, the New York City Marathon, the Leadville 100 mile mountain race in Colorado and the Furnace Creek 508 mile cycling race through Death Valley California.  Locally, he competes at UCI sanctioned cycling races and runs races ranging from 5km to full marathon distances.
His varied background, both professionally and in sport, allows for a better understanding of the needs of his clients seeking to ease their pain, improve mobility, recover from injury and reduce stress.